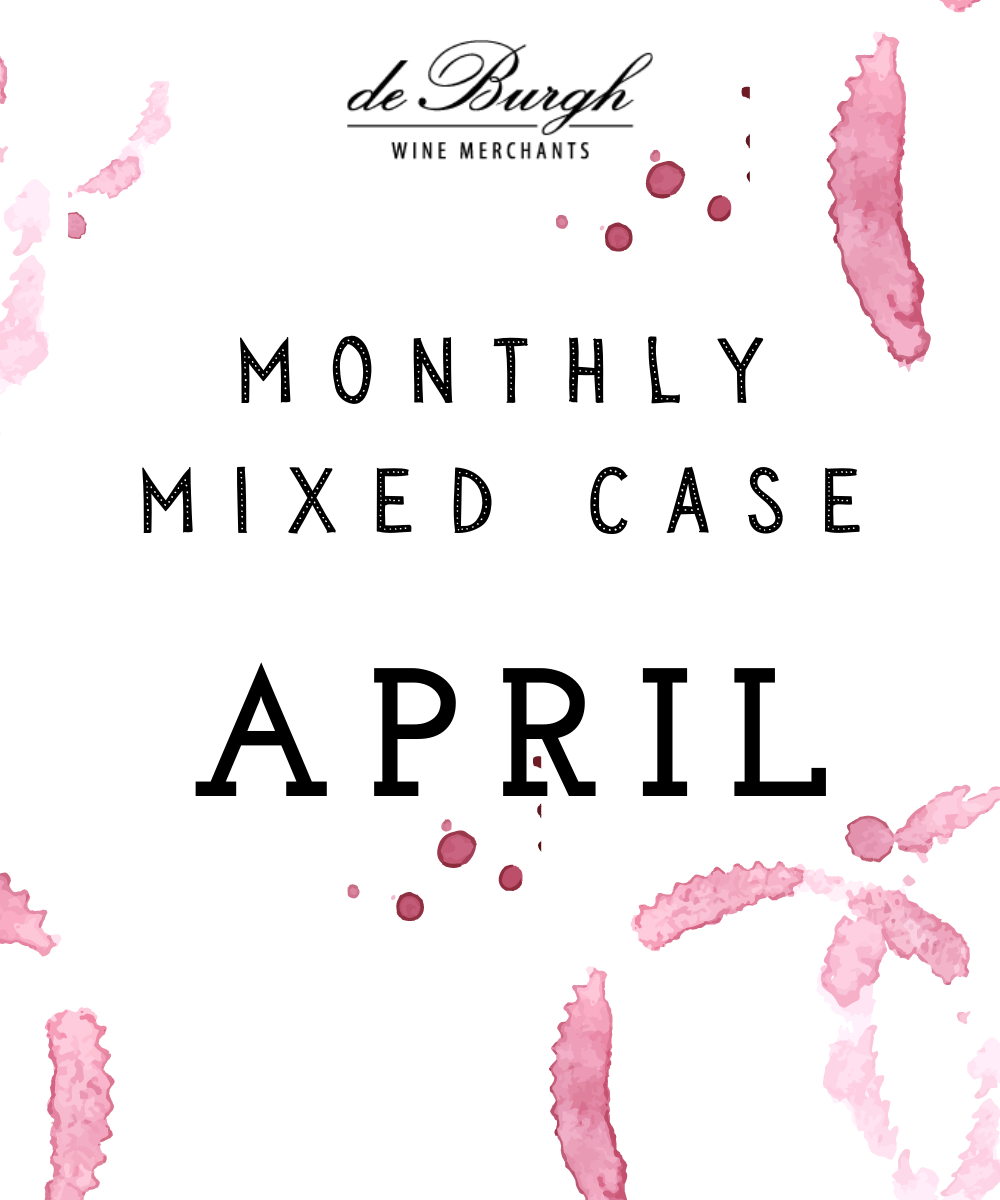 The de Burgh Monthly Mixed Case - April
SKU 00547
Product Details
With Easter weekend upon us or behind us, depending on when you're reading this, and a gentle feeling of optimism in the spring air I thought this month's case would have the theme of happiness! To be more precise, it's a personal case of six wines that have always made me happy. I'll be honest, lots of wines make me happy but over the past year I'd say these are the six that hit the spot every time, go with a variety of meal time favourites and don't require you to be in a certain mood to enjoy them.
Kuntz 2019 Riesling is a rich, full and very fruity vintage with great underlying freshness. It is a delicious wine from one of the Mosel's leading producers and fantastic as an aperitif in the garden. Ingrid Groiss Gruner Veltliner is a bargain and if you've not tried it then this is the moment! It is a fantastic grape, a little like a cross between Sauvignon Blanc and Albarino. Falanghina Antiche Torri is made by the super La Guardiense co-operative and is not only well priced but oozes the casual elegance of great Italian dry whites. It's been our house white for a few months. Walter Massa's Terra Barbera is our go to Italian red for all Italian cuisine and is made by one of the greatest Barbera producers around. I've probably mentioned Jean Paul Brun's Le Ronsay Beaujolais before? As Jeremy Clarkson would say "It's the greatest wine in the wooorld" and a lovely medium bodied, fresh red wine. Finally, is one of South Africa's bargain Bordeaux blends from Meerlust. It is a great big, rich, black fruited wine that is lovely with red meats, BBQ or sinking into the sofa with. #bliss #happiness
Sybille Kuntz Qba Riesling Mosel, Germany - £15.99
Tropical, rich, lots of lime and greatness freshness.
Gruner Veltliner Ingrid Groiss Weinviertel, Austria - £11.49
Fresh, zingy Gruner with beautiful green fruit and a little spice.
Falanghina 'Antiche Torri' La Guardiense Campania @ £7.99
Ripe lemon, peach, fresh. The modern alternative to Pinot Grigio!
Barbera 'Terra' Walter Massa Piedmont, Italy @ £9.99
An amazing expression of Barbera from the King of Barbera. Sappy, balsamic, pure and exotic.
Beaujolais 'Le Ronsay' Jean Paul Brun Beaujolais, France - £10.99
Super delicious and amazingly drinkable Beaujolais with attractive red fruit and light spice notes. The perfect lunch time tipple!
Meerlust Red Stellenbosch, South Africa - £11.99
Full bodied Bordeaux blend with intense crushed black fruit, cassis, vanilla, dark chocolate and cream.
Save this product for later